Technical Industry
Companies in technical industries face many similar challenges such as cost pressures, counterfeiting and the race to digitize their physical worlds. Optimizing the supply chain and life cycle management are key processes to resolve these.
To make use of the features of identification, capture and sharing highlighted by GS1 standards (barcode/RFID) to construct a common business language throughout the whole supply chain which can operate cross-department (enterprise), helping enterprises to effectively manage their products and equipments so as to reduce the cost and achieve SCM improvement. In addition, the use of barcode marking technology (DPM) can eliminate counterfeiting and increase product security.
Our focuses:
Promote knowledge and application of GS1 standards in the technology industry.
Successful implementation and use of GS1 international standards operating across departments.
Facilitate industry collaboration to improve product life cycle and supply chain efficiency, increase safety and save costs.
Lead the more efficient development of the technology industry.
Defense, engineering, energy, public transportation, and mining are all technical industries that currently face many of the same challenges, such as cost pressures, counterfeiting, and competition in the digital brick-and-mortar world. When parts and raw materials enter the production process, they collectively require transparent processes to optimize the supply chain; go through processing, assembly and packaging; and then push out the finished product that the customer demands.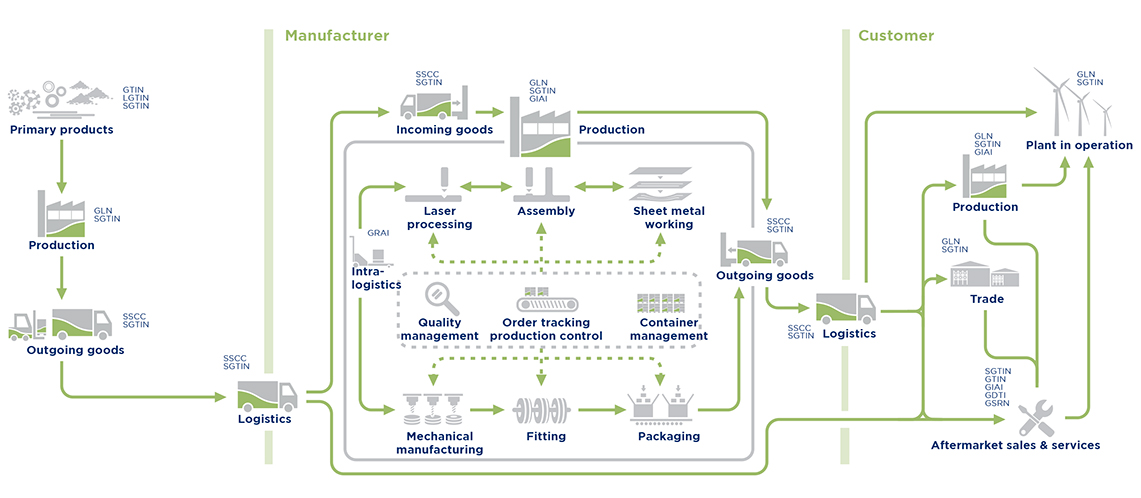 GS1 Standards for identifying, capturing and sharing information about things (products, parts, components and assets), business locations, documents and more, enable these industries to achieve true supply chain visibility and life cycle management. This sector also focuses on relevant and pivotal industry activities and business processes such as:
● Industrial Internet of Things (IIoT or Industry 4.0), innovation in automation
● Globally unique serialization & Direct Parts Marking
● Maintenance and Repair Operations (MRO)
● Unique Identification and the Internet of Things
GS1 standards drive interoperability within this sector, leading to greater efficiency and lower costs.
Contact
Mr. Lin,
Manager, Industry Engagement
+886.2.25450011 Ext.101
email : alex.lin@gs1tw.org